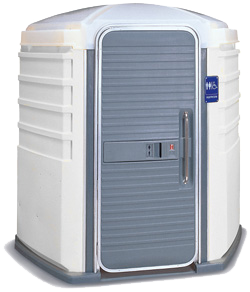 THE SPECIAL NEEDS PORTABLE RESTROOM ARCHITECTURALLY CERTIFIED AS MEETING ADA REQUIREMENTS.
"The PolyJohn portable restroom not only complies with the ADA requirements but exceeds conformance by providing more than ample maneuvering space as well as full wrap-around grab bars for additional support. The unit's high quality, attention to detail, and aesthetic considerations make it very user friendly."
-D. Eric Leedy The We'll Care III offers a new angle and level of quality for special needs restrooms. Created for the disabled, this unit has undergone a full architectural review and is certified as meeting ADA guidelines set for restroom standards. The stylish, contoured design combines class and functionality, setting it above industry standards. The We'll Care III is designed with an expansive, hexagonal floor that allows for easy wheelchair maneuverability and caregiver assistance. We've included extended grab bars to provide both physically and visually impaired individuals with better stability and support. There is an impressive array of features offered in the We'll Care III. The static tank toilet extends outward and adheres to specific height requirements, while adding to the overall safety and comfort of the unit. Also, the low ground level floor is uniquely designed to make getting in and out of the unit a smooth transition. The door includes an easy opening latch and automatic door closure system. The latch also locks for privacy and visually displays an automatic occupied/unoccupied indicator. To enhance the airflow through the unit, there are five discreetly hidden ventilation screens and a new design exterior vent exhaust duct for odors.