The Utility Series offers a complete selection of individual and stand-alone restrooms, washstands, and accessories. Ideal for construction sites, parks, athletic fields, fairs and festivals, these units feature durable construction with a wide selection of comfort amenities and access options. And if you don't see what you are looking for, just give us a call. We are constantly adding new models. Click on the picture for full details on each unit.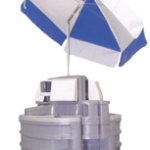 Signature Applause Washstand
A two sink portable wash stand designed to meet your growing needs.
The new innovatively designed portable wash stand incorporates a unique combination of functionality and flexibility. It is styled, contoured, and shaped with an unsurpassed level of quality and convenience. The Signature Applause makes a perfect option of creating a four sink station island simply by lining up two units back to back. The Signature Applause is loaded with an assortment of built-in features and attractive amenities for easy, hygienic hands-free operation. The large sink bowls and extended faucet combination offer an expansive washing area and splash-free environment. For easy access, the towel and twin soap dispensers mount on the service tower. For high volume activity, we've added two foot-action pumps that efficiently deliver fresh water from an outer tank. For gray water, there is a detachable flexible inner tank. A convenient trash bag holder is located on each side of the unit with a paper towel chute large enough to dispose of paper towels, yet small enough to discourage other items. The top bowl features rotomolded polyethylene in light-white, black-speckled granite. The service tower, main tank and waste bins come in medium gray, black-speckled granite. To top things off, there is an optional umbrella with detachable valances that may be customized to include advertising. Other added features include a conveniently located fresh-water fill port, fresh water drain plug, and maintenance-free snap together plastic fittings for the internal plumbing system.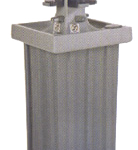 Wash Station
Just right for work sites.
For work sites where frequent hand washing is necessary, we offer the convenient four-person wash station. The unit features hands-free operation with four foot pumps delivering water to plastic spigots. Fresh and gray water tanks are made of durable polyethylene. Refilling fresh water and paper towels takes a minimum of effort and both are protected by lock and key to discourage vandalism. Four paper towel racks and soap dispensers are standard with the unit. The internal plumbing has been redesigned for easy maintenance and access for pumping. The unit accepts a standard stinger or wand at a convenient height. A lower access is available for dumping unused water. The unit has one drain plug that can be easily removed with an Allen wrench.